I've never painted with oils before last fall (I haven't done much painting at all and never taken a class in it) but from the limited amount I've done since then I like them better than acrylic and I can't really explain why. If you've ever had a game that you like because the pieces are nice, they are smooth and rounded and have a nice weight to them so that it just feels good to pick them up, that's how I feel about oil paint vs acrylic paint. In November I was invited to start painting with friends and hopped in, hoping I'd figure out what I was doing as I went.

I started working on a landscape from a photo I took on the Isle of Skye of a heather-covered hillside and the shoreline and sea beyond. Did I mention I knew NOTHING about oil painting (or any painting?) so it's been slow going as I stopped every time I had to work on something new.
I think it looks very much like someone's first oil painting. The colors are too saturated, particularly the sky, and my brushwork leaves something to be desired, but I'm working on it. I need to finish up the heather and there are some details in the mid ground I want to touch up before I call it done.
After we'd been stuck in our houses a while because of the pandemic, I decided to bring the paint supplies to my house so I can at least work on something. I was not previously a fan of the still life, but these are small, have simple shapes and are very 'low risk' compared to a portrait. If I've got some lines off on a lemon, it doesn't make the lemon look angry.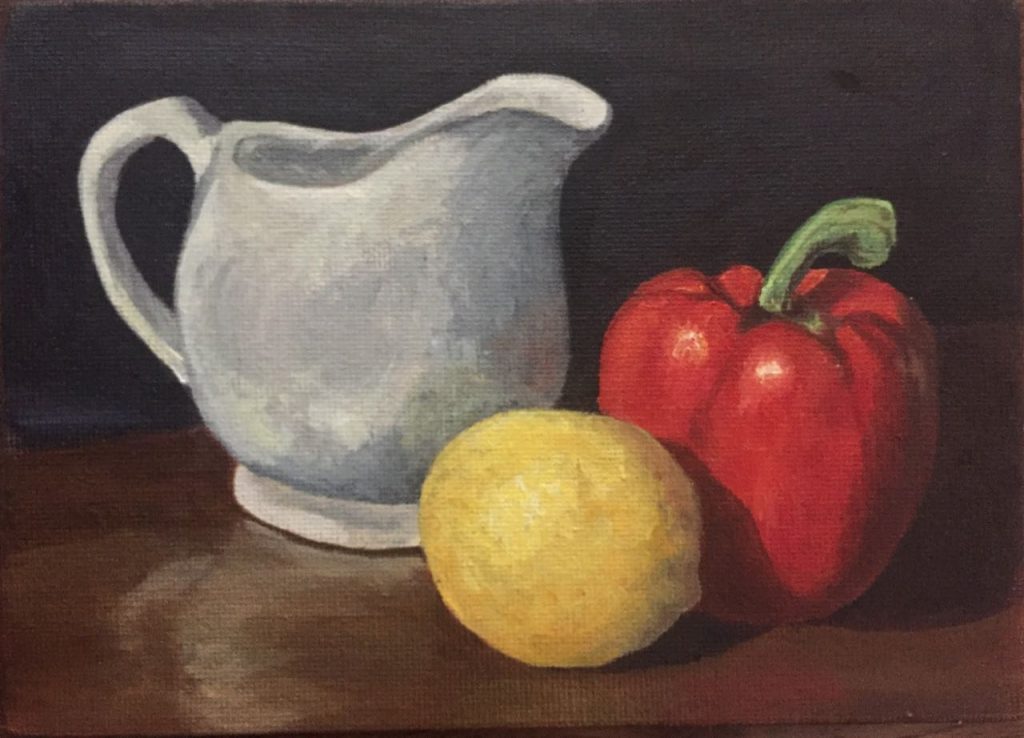 Things I noticed: when trying to paint a white, shiny object, I should not have made the highlights pure white – it looks too chalky. It is very difficult to figure out what the shadow color on a lemon is. I am not good at painting thin lines. If I do a blend from purple to red to orange I need to really keep my brushes clean and possibly break it down over several days.
Finally, I went through my photos and decided to try another landscape. This one is small (14×11) and I'm thinking of it as a 'practice sketch' for something to maybe do again later but bigger. I'm playing around with a style and want to work a bit looser. I started with a practice practice sketch – a thumbnail that was only 4″ wide to get an idea of the colors.
The oils take a while to dry between layers and I'm prone to wanting to rush everything (I can create grey!) so my current solution is to always have 3-4 paintings in progress so I can jump to another when one needs time to dry.